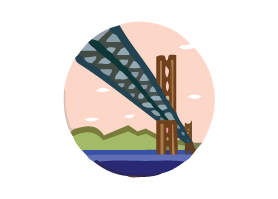 The Omnis Data Bridge, from TigerLogic, provides support for shared Omnis database files on Mac OS X Server for software packages built with Omnis 7 and Omnis Studio. The Omnis Data Bridge enables these applications to manage the access of the Omnis database files without exposing the end user to complicated XML and IP configuration details.
"We are using the Mophilly config tool with good success!"
ALAN SCHMIDT
The Omnis Data Bridge Administrator enhances the developer and user experience when using the Omnis Data Bridge. This includes a simple File Open dialog to be added to the Omnis 7 or Omnis Studio based application. Omnis database files can be stored in any safe and secure directory on the server, well away from accidental deletion by an unwary end user. The application presents an easy to understand list of available data files to the end user. Saving the selection and log on information is as it was back in the days of Mac OS 9.
Schedule ODB stop and start for file backup
Include or exclude data files with a simple check box
Eliminates the need to edit XML config files and plists
Implement in your application in less than 30 minutes
Includes source code, developers guide and an example application
" I installed and used the ODB Admin app at a client site and it worked flawlessly. "
STEVE FARMER