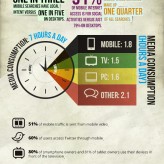 If you aren't selling your products or services via a mobile channel, it's time to catch up. According to a recent infographic by Super Monitoring, 57% of users say they won't recommend a business with a poorly designed mobile website. Why is this relevant to your business? Well, according to the same source, 52% of tablet users now say that they prefer to shop using their...
Read More
Mophilly's own Walter Venable founded the Asheville iOS Developers meetup group. Walter created this group to meet others in the local iOS development community and to provide a forum to trade tips, tricks, and lessons learned. Everyone is welcome to this meetup: Experienced iOS programmers Developers just sticking their toes into Xcode Graphics folks doing interface design for apps Those...
Read More
For mobile developers who want to stay in the industry long-term, it's essential to look ahead at where new business will be coming from. Beyond just seeking out the next client, savvy developers will position themselves ahead of the market. Enterprise is Going Mobile A big trend for mobile developers is building mobile applications for enterprise solutions. This may mean designing new solutions...
Read More
A colleague, Alain Stouder of Smartway, shared a link to an interesting article by Bret Victor, "A Brief Rant On the Future Of Interactive Design". The article intends to make us think about our tools and what technology might become to better serve our needs. As I read I got to thinking about the work of Edward Tufte and Don Norman. Sure enough, the rant included links to other...
Read More
Alan Schmidt, technical master mind behind Connected Accounting, selected Mophilly Technology as a prime development partner for his company's mobile initiative. The preview of the first modules received very positive feedback at the MacWorld show in January 2011. For more information about Connected Accounting, please visit the AccountTek...
Read More