Value Solution with Omnis for Mobile Apps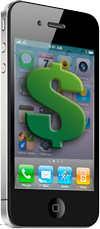 We've been working on our personal iOS apps and Android projects. It's clear that Mobile is here.
Mobile Apps are a Huge Opportunity and Headache. Lots of devices, lots of kinds of devices, lots of databases and interfaces. For a small company needing a unique custom app-we think Omnis Studio can offer a value solution. It's a fast way to make simple mobile apps that function on all kinds of devices and on the three desktop platforms: Linux, OSX, and Windows. Further, Omnis reads just about every kind of database.
Bigger companies are hitting home runs using mobile apps for all kinds of selling, marketing, employee and asset management.Ê Two quotes from InformationWeek 's Plug into the Cloud
Next year will see an increase in IT budgets… The mobile enterprise is real.
We think smaller companies are going to need this kinds of apps to maintain a competive edge.